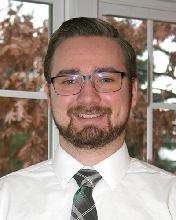 Colin is life-long resident of Northeast Ohio and currently resides in Akron. He graduated from The University of Akron with a Bachelor of Science in Accounting. Colin is currently completing the requirements for his Certified Public Accountant designation.
Colin was very active during his undergraduate college years. His activities and accomplishments include intramural soccer and ultimate frisbee, hiking, camping, holding various positions in the Phi Kappa Psi fraternity, and making some of the best lifelong friends in his undergraduate years. When he has time to travel he enjoys going to a beach and relaxing.
Colin's day to day functions include individual and business tax compliance, preparation of business financial statements and a wide range of services for our clients that includes social security analysis and business valuations. Colin has also assisted in field work for our audit clients.
Moving forward his focus areas include internal controls, agreed upon procedures, and cost accounting.